Valemount (BC), Canada – While you were basking on the sun on the beach in August, a massive new glacier ski resort planned for land just west of Jasper National Park, received a green light from the B.C. provincial government.
Developers hope to have the CAN$175 million Valemount Glacier Destination Resort up and running by December 2017. With year-round skiing on glaciers at over 10,000 feet in the famed Cariboo Mountains, the largest vertical drop in North America (6,726 feet), and a compact resort village, they hope to draw destination visitors from around the globe.
"[This] is an opportunity to bring people to the mountains that are in the right location with the right climate," says Oberto Oberti, president of Oberti Resort Design, "basically bringing the skiers where the snow is.
"It seems so simple, but we haven't done it before."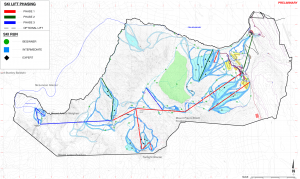 "You can't duplicate the vertical drops, the glaciers, the vistas, the snow conditions, the pristine surroundings, " adds the project's lead planner, Tommaso Oberti, son of Oberto. "There are few locations in the world where mountains of this caliber are accessible."
One feather in Valemount's cap is widespread support from local towns and First Nation communities surrounding the resort, unlike the similar Jumbo Glacier Resort also proposed by Oberto Oberti for crown land west of Invermere, B.C.
"It has been inspiring to work with our partners, the local people who will be welcoming visitors to their magnificent land. We thank Valemount mayor Jeanette Townsend and her Council, former mayors Andru McCracken and Bob Smith, McBride mayor Lorrane Martin, the Valemount Ski Society and the people of Valemount and the Robson Valley, whose initiative and enthusiasm have been a major driving force," says Tommaso Oberti, who adds, "We have appreciated that Chief Nathan Matthew has seen the promise of a significant tourism destination to enhance the prospects of the Simpcw (First Nation tribe)."
On Thursday of this week, the project received unanimous rezoning approval from the Regional District of Fraser-Fort George. The next steps are the completion of a Master Development Agreement with the province as well as official Community Plan amendment process with the regional district. The construction of resort buildings and subdivisions will require Development Permit approval from the Regional District Board, in addition to compliance with the Design Guidelines of the Master Plan. Construction will also require building permits.
Although the master plan calls for a 20-year build-out with lifts carrying both sightseers and skiers to the summits of Mount Pierre Elliot Trudeau, Twilight Glacier, Glacier Ridge and Mount Arthur Meighen, developers hope to break ground this spring and spin the first phase of lifts in December 2017.