Park City, UT – American ski racer of Park City announced on Monday that he will have surgery on his back, which will cause him to miss the rest of the 2016-17 World Cup ski season.
The two-time Olympic gold medalist will instead focus on the 2018 Olympics in PyeongChang, intending to come back strong as a medal contender.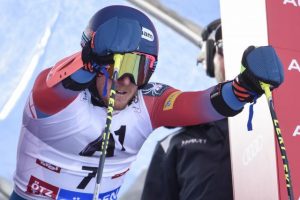 "One last powder day with my wife before going under the knife," Ligety posted to Instagram on Monday evening. "Since Soelden, I have been dealing with severe nerve pain down my left leg that has not allowed me to ski at the level that I expect of myself. I have seen many doctors and therapists, undergone an array of treatments and therapies to no effect."
A microdiskectomy surgery means that Ligety's season is over, and squashes his chance to defend his giant slalom title at the World Championships.
"This has been tough to accept especially after last season," Ligety continued, "but on the plus side hopefully this surgery will alleviate the back issues I have dealt with over the last few years. I will be back strong and fast again. Thanks for your support. #illbeback"