Kitzbuehel, Austria – At Sunday's Hahnenkamm Audi FIS Ski World Cup slalom, a British man stepped onto a surprise podium.
British slalom sensation Dave Ryding was the story of the day, delighting his country's ski racing fans by winning the first run of slalom in the biggest ski weekend of the season in front of a crowd of more than 25,000. However, Marcel Hirscher of Austria crushed his second run in front of the home crowd—skiing from ninth place to take the lead ahead of Ryding.
"You know, after the first run, that was for sure not what I was looking for. So often in this season so far, the first runs are not my best ones, maybe too much thinking of making points (for the overall)," Hirscher admitted. "Between the runs, I was thinking about what I can do to be faster in the second run. At the end, it was the complete trust in myself to take the risk. Before second run, we discussed it; take the risk, it doesn't matter if I ski out or not. It is racing and not a tactical game."
Although Ryding could not beat last season's overall World Cup champion, the 30-year-old Brit flung his poles in the air when he saw that he finished in second. He celebrated his first career World Cup podium, ecstatic to show off the British Ski Team to the world. His training partner Alexander Khoroshilov of Russia finished third.
"I never even dreamed it. It's so far beyond my dream that it's just like, 'Is this really happening? Am I really doing this in Kitzbuehel, of all places?'" Ryding said. "It's incredible, I'm speechless. Crossing the line, I couldn't believe it; it was just so cool that it really happened. Coming down into second felt like a win. I had two runs where I really did exactly what I wanted. I just hope it inspires a whole generation now and we can take from this, like, it's been so long since a Brit was in the top ten — never mind a podium. All the Brits out there, it's time to go and we can do it."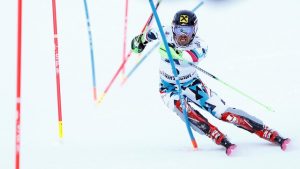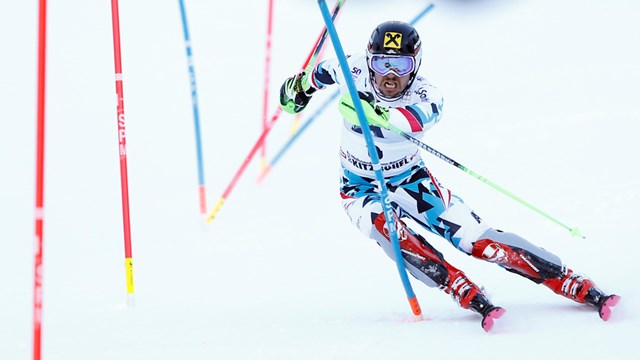 The Americans had a hard time on the slick track with challenging terrain, and no U.S. man finished. David Chodounsky, of Crested Butte, Colo., was feeling a bit under the weather and struggled with the bottom section of the course on both runs. He was 25th after first run and while he was making up time on second run, he fell before the finish.
"I was skiing well," said Chodounsky. "I just ran out of gas down bottom. I've been feeling a little sick. I had cold sweats all last night and I don't think that helped me out today. You really needed all your strength today."
As for other Americans, Robby Kelley (Starksboro, Vt.), Mark Engel (Truckee, Calif.), Michael Ankeny (Deephaven, Minn.) and Ryan Cochran-Siegle (Starksboro, Vt.) did not qualify for second run. AJ Ginnis (Vouliagmeni, Greece) did not finish first run.
Next up is the famous Schladming, Austria night slalom on Tuesday.
OFFICIAL RESULTS
Audi FIS Alpine Ski World Cup
Hahnenkamm Weekend – Kitzbuehel, Austria – Jan. 22, 2017
Men's Slalom
| Rank | NATION | Name | Run 1 | Run 2 | Tot. Time | Diff. Time | WC Points |
| --- | --- | --- | --- | --- | --- | --- | --- |
| 1 | AUT | HIRSCHER Marcel | 54.44 | 50.79 | 1:45.23 | | 100 |
| 2 | GBR | RYDING Dave | 53.42 | 52.57 | 1:45.99 | +0.76 | 80 |
| 3 | RUS | KHOROSHILOV Alexander | 54.18 | 52.16 | 1:46.34 | +1.11 | 60 |
| 4 | NOR | HAUGEN Leif Kristian | 54.23 | 52.15 | 1:46.38 | +1.15 | 50 |
| 5 | SUI | YULE Daniel | 54.34 | 52.50 | 1:46.84 | +1.61 | 45 |
| 6 | GER | NEUREUTHER Felix | 54.16 | 52.95 | 1:47.11 | +1.88 | 40 |
| 7 | CAN | READ Erik | 55.85 | 51.30 | 1:47.15 | +1.92 | 36 |
| 8 | AUT | SCHWARZ Marco | 54.26 | 52.96 | 1:47.22 | +1.99 | 32 |
| 9 | NOR | NORDBOTTEN Jonathan | 55.46 | 51.88 | 1:47.34 | +2.11 | 29 |
| 10 | FRA | PINTURAULT Alexis | 55.60 | 52.05 | 1:47.65 | +2.42 | 26 |