Garmisch-Partenkirchen, Germany – Swiss ski racer Lara Gut took the victory on the bumpy, icy Kandahar track at Sunday's Audi FIS Ski World Cup super G race in Garmisch-Partenkirchen, taking away more of American Mikaela Shiffrin's World Cup lead.
Gut continued her unbeaten streak in super G this season by finishing ahead of Austria's Stephanie Venier, who scored her first career World Cup podium in second and Tina Weirather of Liechtenstein in third.
Gut wasn't convinced when she crossed the finish line that her performance was going to be enough for victory, shaking her head in front of the camera operator.
"Our coaches set the super G, and it was, for sure, more difficult than usually," Gut said. "Lake Louise was really an easy super G, and in Val d'Isere we had a lot of space between the gates. And here it was again more technical. I had to ski with my head, and I wasn't so clean on my lines and not even on the ski. I had the feeling where it was turny in the middle part that I should have skied more on my skis and not just as a passenger of my skis. So I wasn't really satisfied about that. But that's the cool thing, when the course setting is difficult, that everyone has to come to the finish and try at least to ski. So today, I was just lucky because of that."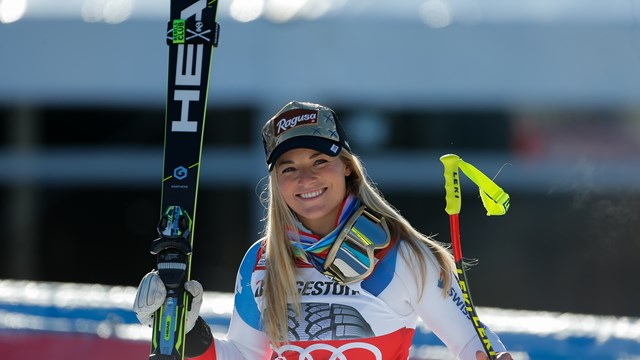 With Sunday's victory and a second place in Saturday's downhill behind Vonn, Gut took 180 points out of Shiffrin's overall World Cup lead, which now stands at 135 points.
In her first super G race in nearly a year, Lindsey Vonn finished ninth to lead five American's into the top 30, including Laurenne Ross (Bend, Ore.) in 15th; Breezy Johnson (Victor, Idaho) 27th; Anna Marno (Centennial, Wyo.) 28th; and Jackie Wiles (Aurora, Ore.) in 30th. Alice Merryweather (Hingham, Mass.) just missed the points in 32nd.
"It was very bumpy and very icy," Vonn said of the Kandahar track. "It's very dark, so it was hard to get a good feeling on the snow, on this slope."
In fact, a total of 23 racers failed to finish Sunday's race.
"I didn't see Lara (Gut's) run. I'm sure she skied it very well. It really took some aggressive skiing today to win," she added. "I didn't have that today, but I congratulate all the top three finishers."
Vonn, who won Saturday's downhill in only her second race since returning from a pair of injuries, competed on Sunday in her first super G race since February of 2016 when she won a super G during the alpine combined in Soldeu-El Tarter, Andorra. Now that she has one super G race in her legs, she's ready to step it up next week at Cortina, Italy.
"I think it's a good first step," Vonn said of Sunday's race. "In the downhill in Zauchensee, it took me one race to really get into it, so I think today was positive. I didn't ski my best, I had some trouble with the ice, but I will train some more before Cortina – I love Cortina – and I'm really looking forward to next week."
Vonn has good reason to love Cortina. Two years ago, she broke the all-time World Cup victory record in Cortina. Last season she broke Annemarie Moser-Proell's World Cup dowhill win record there. Cortina is also the site of her first-ever World Cup podium, third in downhill in 2004.
The women's Alpine World Cup now heads to a giant slalom in Kronplatz, Italy.
OFFICIAL RESULTS
FIS Alpine Ski World Cup
Garmisch-Partenkirchen, Germany – Jan. 22, 2017
Women's Super G
| Rank | NATION | Name | Tot. Time | Diff. Time | WC Points |
| --- | --- | --- | --- | --- | --- |
| 1 | SUI | GUT Lara | 1:17.92 | | 100 |
| 2 | AUT | VENIER Stephanie | 1:18.59 | +0.67 | 80 |
| 3 | LIE | WEIRATHER Tina | 1:18.78 | +0.86 | 60 |
| 4 | AUT | SCHMIDHOFER Nicole | 1:18.99 | +1.07 | 50 |
| 5 | FRA | WORLEY Tessa | 1:19.00 | +1.08 | 45 |
| 6 | ITA | CURTONI Elena | 1:19.17 | +1.25 | 40 |
| 7 | ITA | BRIGNONE Federica | 1:19.36 | +1.44 | 36 |
| 8 | SWE | KLING Kajsa | 1:19.48 | +1.56 | 32 |
| 9 | USA | VONN Lindsey | 1:19.57 | +1.65 | 29 |
| 10 | AUT | HAASER Ricarda | 1:19.67 | +1.75 | 26 |