Maribor, Slovenia – Even world champions feel the wrath of their mothers if they are late for lunch.
Slovenian skier Filip Flisar has come up with a novel way to play catch-up: a jetpack.
The 29-year-old, crowed world champion in ski cross in 2015 and a semi-finalist at the last Winter Olympics a year earlier, found himself still on the slopes when he got a reminder from his mother that lunch would be on the table shortly. So in a race against time, he popped on his jetpack, giving him 88 pounds of thrust and enabling him to reach speeds of up to 75 miles per hour from going downhill to the dinner table.
A skier renowned for usually sporting a handlebar moustache, the sight and sound of the jetpack understandably left some of the residents in his home town of Maribor a tad bemused, although as far as he knows his endeavours did not lead to any speeding fines from local police.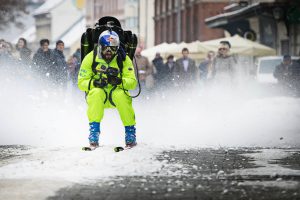 Flisar's jetpack enabled him to ski up and downhill, across fields, over a football pitch while players were training, across a bridge, over a frozen lake alongside ice skaters and down steps, all to the backdrop of confused pedestrians.
Needless to say, he made it back in time just before the roast found its way onto the table.
"Skiing fast with a jetpack in an open field is one thing, blasting your way across asphalt, granite sets and icy concrete in the middle of Main Square proved to be a totally different story," Flisar explained.