Tignes, France – The American skiers had an excellent showing at the final FIS World Cup halfpipe of the season on Tuesday, with Alex Ferreira of Aspen, Colo. grabbing the top spot and fellow ColoradoanTaylor Seaton taking second for the men.
It was Ferreira's first major podium of the year, and it was a big one—he topped Seaton by almost four whole points with his second run. The two Americans were joined on the podium by French skier Kevin Rolland, who took third.
Rolland was also awarded the crystal globe award for topping the overall 2017 FIS halfpipe standings. Aaron Blunck, of Crested Butte, Colo. was the top overall American halfpipe finisher for the year, coming in third; he was ninth in Tignes on Tuesday.
For the women, Annalisa Drew of Andover, Mass. was the top American finisher in Tignes with a fourth-place performance. She was also the top American finisher on the overall 2017 FIS points list, coming in third.
Marie Martinod won the women's crystal globe for top FIS halfpipe points winner; she placed third in Tignes. Canadian Cassie Sharpe won the event and Japan's Ayana Onozuka was second.
"We weren't sure the finals were going to happen, as it snowed over two feet," Sharpe said. "The crew did a great job of maintaining the pipe and around 4 p.m. the clouds parted and it was blue skies."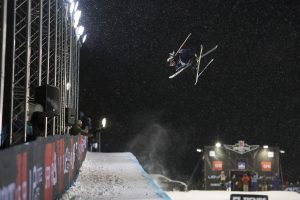 Americans also making the final: Maddie Bowman (South Lake Tahoe, Calif.) was sixth; Birk Irving (Winter Park, Colo.) was seventh.
OFFICIAL RESULTS
FIS Freestyle Ski World Cup
Tignes, France – Mar. 7, 2017
Men's Halfpipe
| Rank | Name | Nation | Result | FIS Points | WC Points |
| --- | --- | --- | --- | --- | --- |
|  1 | FERREIRA Alex | USA |  93.20 |  1000.00 |  100.00 |
|  2 | SEATON Taylor | USA |  89.40 |  800.00 |  80.00 |
|  3 | ROLLAND Kevin | FRA |  89.20 |  600.00 |  60.00 |
|  4 | VALENTIN Benoit | FRA |  89.00 |  500.00 |  50.00 |
|  5 | MACKAY Brendan | CAN |  82.40 |  450.00 |  45.00 |
|  6 | BOWMAN Noah | CAN |  79.20 |  400.00 |  40.00 |
|  7 | IRVING Birk | USA |  71.40 |  360.00 |  36.00 |
|  8 | GISLER Joel | SUI |  44.00 |  320.00 |  32.00 |
|  9 | BLUNCK Aaron | USA |  40.60 |  290.00 |  29.00 |
|  10 | D'ARTOIS Simon | CAN |  37.60 |  260.00 |  26.00 |
Women's Halfpipe
| Rank | Name | Nation | Result | FIS Points | WC Points |
| --- | --- | --- | --- | --- | --- |
|  1 | SHARPE Cassie | CAN |  90.80 |  1000.00 |  100.00 |
|  2 | ONOZUKA Ayana | JPN |  86.00 |  800.00 |  80.00 |
|  3 | MARTINOD Marie | FRA |  84.00 |  600.00 |  60.00 |
|  4 | DREW Annalisa | USA |  82.00 |  500.00 |  50.00 |
|  5 | CAKMAKLI Sabrina | GER |  71.40 |  450.00 |  45.00 |
|  6 | BOWMAN Maddie | USA |  67.20 |  400.00 |  40.00 |
|  7 | SIGOURNEY Brita | USA |  63.40 |  360.00 |  36.00 |
|  8 | GROENEWOUD Rosalind | CAN |  62.80 |  320.00 |  32.00 |
|  9 | HANSEN Abigale | USA |  59.00 |  290.00 |  29.00 |
|  10 | CHESHIRE Rowan | GBR |  56.60 |  260.00 |  26.00 |