Hafjell, Norway – Norwegian Øystein Braaten took the gold in front of the home crowd on Thursday at the X Games Norway ski slopestyle. Indiana native Nick Goepper earned a silver medal, while James Woods of Great Britain rounded out the podium men's podium with bronze. In Thursday's women's comp, Johanne Killi also took home her fourth X Games medal and first gold for Norway, while Tess Ledeux of France took silver. Devin Logan, of West Dover, Vt., earned bronze for the Americans.
In his second run, Braaten landed a run including a switch on mistyflip japan on the fence rail, a switch Rightside Double 1080 Japan, a switch Leftside Double 1260 Tailgrab and a double belly down flatspin 900.

Oystein Braaten wins men's Ski Slopestyle Gold. (video: ESPN)
"I'm really, really stoked right now! To be able to land what I wanted to land here at home is just amazing and it feels unbelievable. I had a good feeling before the comp and I believed in myself," said Braaten. "I'm so happy I landed a good first run so I could step it up in my second run."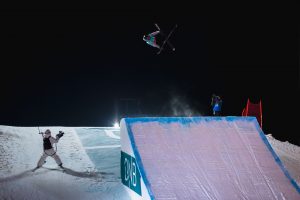 Goepper, who won three consecutive X Games Aspen titles from 2013-15, skied well on the challenging course to claim his fifth overall X Games medal (he also earned silver at his first X Games appearance in 2012).
Sitting in second place behind Tess Ledeux in the women's competition, Killi put down a run that included technical rail tricks up top, a Rightside 540 Japan, Switch Rightside 720 Japan and finally a Leftside 900 on her final jump. In the final run of the contest, Killi earned a 90.00 to bring the first medal of the event home to Norway. Ledeux earned her second consecutive silver medal.
"It's so big skiing in front of my friends and family and I hope it's happening again next year as well!" said Killi. "I knew I would get second place, but I wanted to get the gold here in Norway."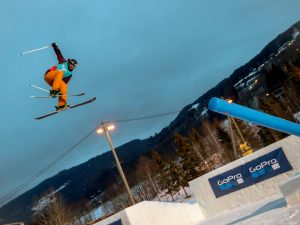 Logan earned her second X Games medal, having taken slopestyle silver in 2012. With her podium finish in Norway, Logan jumped to the top of the overall rankings on the Association of Freeskiing Professionals (AFP) tour. However, she wasn't even originally scheduled to compete in slopestyle in Norway—she snuck in off the alternate list when Estonia's Kelly Sildaru dropped just before the competition started.
"Speed was definitely an issue for some, but I personally didn't feel that it was a problem for me because I'm the biggest competitor out there and I hold speed pretty well," Logan said. "That definitely worked to my advantage tonight, so I'll take it."

Johanne Killi wins Women's Ski Slopestyle Gold. (video: ESPN)
Other Americans in the final: McRae Williams (Park City, Utah) was fourth; Joss Christenson (Park City, Utah) was fifth; Gus Kenworthy (Telluride, Colo.) was seventh; Maggie Voisin (Whitefish, Mont.) was seventh.