Killington, VT – A day after finishing fourth in giant slalom, Mikaela Shiffrin skied away with her 45th World Cup victory on Sunday in front of more than 15,000 screaming fans who braved mist, rain, and fog to cheer not only the best ski racer in the world to victory, but for the first time in years, three Americans who qualified for the second run.
"I could hear them [the fans] from the start. It was deafening," said Shiffrin, of Avon, Colo., who won her second consecutive World Cup slalom of the season, and her third-straight Killington Cup slalom victory ahead of Slovakia's Petra Vhlova in second and Sweden's Frida Hansdotter in third. "The crowd really carried me down the hill and it's just amazing to race here in front of everybody. The atmosphere is just so incredible and it's really, really a special race."
Shiffrin skied to a 0.29 second first-run lead over Austria's Bernadette Schild, and more than a half-second ahead of Slovakia's Petra Vlhova on an "interesting" first run course set, which challenged a number of racers, in addition to the fog rolling in and out.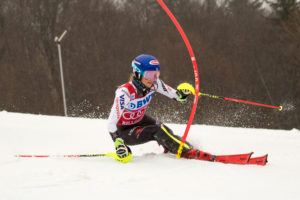 "I knew it was going to be a fight because of the tough conditions today, it was pretty sloppy snow, but I figured, 'well, everybody has to fight, and if I fight harder, we'll see what happens,'" Shiffrin said. "There were a couple points on the course where I wasn't actually sure if I was still on the course, but I kept my skis moving and then I was like: 'I'm in
the finish!' It worked!"
"I was really just hanging on at the end there," said Nina O'Brien (Denver, Colo.), who made her World Cup debut at Killington in 2016 and finally in her 14th World Cup start, qualified for the second run after coming out of the 48th start position to finish 30th in the first run. "It feels so good to finally make it in there and be a part of the second run. I've had a lot of tries, and close calls, and a few not as close…but it's really a breakthrough today."
In addition to O'Brien, who finished 23rd, Paula Moltzan (Burlington, Vt.) wowed the home-state crowd with a career-best World Cup finish in 17th.
"It's super unexpected," said Moltzan, who was joined at the race by some of her current and former University of Vermont teammates. "It's typical to have such a great hometown crowd, I'm a little sad that my parents aren't here, but I've got a lot of other people that love me and it is an incredible atmosphere out here."
Sunday's race was the first time in years that three Americans have qualified for the second run in slalom, and all scoring World Cup points. Both Shiffrin and O'Brien agreed that it is the start of something special.
"It's been a while since we've had a really strong showing and Nina…I watched her first run today and I was like 'that's the kind of fight I'm going to have to have in the second run.' It was so awesome," Shiffrin said. "We've been training together and I've seen these flashes of absolutely brilliant skiing and I saw some of that today.
"We have some really good strong racers, and it's really cool to have this kind of showing of Americans in the second run and on the final board," Shiffrin added.
An even bigger crowd estimated at 18,500 showed up to watch Saturday's giant slalom.  Shiffrin ended up just off the podium in fourth place as Italy's Federica Brignone wowed the crowd with her solid skiing for the victory, followed by Norway's Ragnhild Mowinckel and Austria's Stephanie Brunner in third.
The ladies came in charging on a first run course that was relatively open and straight and laid down some impressively fast, aggressive skiing. There's no question Mowinckel's giant slalom skills are impressive, but her super G skills came into play that first run too, as she took a more direct line than most of her competitors and secured a big 0.37 second lead over Brignone. However, with "hero snow" on Saturday, only a few tenths separated positions two through eight. Shiffrin sat in sixth, 0.69 seconds out after the first run, but within striking position for a podium.
Tom "Cowboy" Johnston, who is in charge of the surface, ensured his team put together a bulletproof track, and unlike Sunday's slalom the snow was perfect on Saturday – perhaps, even a little too perfect (if that's even a thing) in some athletes' minds. Accustomed to slick, hockey rink-like surfaces on the World Cup, athletes found that Saturday's surface held up so well for the entire field…which is the best "problem" to have. However, that made it harder for athletes to make big gains and separate themselves from the field. Hence, the tight time differential.
"The first run I had some really good skiing, but some of the turns I was just not aggressive enough. The second run I was much more aggressive, but it wasn't quite enough. Watching Fede (Brignone) go down I was like, 'Well, yeah – that makes sense!" Shiffrin laughed.
Shiffrin upped the intensity for the second run. She skied clean and strong, with great tactical precision, and came through the finish in the lead by .32 seconds, but Brunner, Mowinckel and – particularly – Brignone were just extremely sound and solid. They turned up the intensity just a notch higher, and it paid off for them. Last year's Killington giant slalom winner, German Viki Rebensburg, ran into some trouble and skied out, while 2016 Killington giant slalom winner, France's Tessa Worley finished in fifth, just two hundredths behind Shiffrin.
With her victory on Sunday, Shiffrin ties Switzerland's Vreni Schneider in World Cup slalom victories with 34 and is just one shy of her childhood hero, Austrian Marlies Schild's record of 35 slalom victories
Up next, the women's World Cup moves on to Lake Louise for a pair of downhills and a super G. Shiffrin scored her first career World Cup downhill win at Lake Louise last season and plans to compete in all three events next week.
Official Results