Montpelier, VT – Vermont ski and snowboard resorts are dropping ropes and taking reservations this December at a record pace thanks to a blessing from Mother Nature and upgraded snowmaking systems. With deep early season snow cover, the holiday season at the state's resorts is expected to be one of the best ever.
"Snow like this is like a gift to skiers and riders and Vermont's ski industry," Ski Vermont's Director of Public Affairs, Sarah Wojcik, said on Friday. "We're looking at having nearly 80% of Vermont's epic terrain open to the public this weekend – that's three times more than usual for this time of year, and easily one of the best early seasons in Vermont's history."
Two resorts opened earlier than expected due to massive snowfall covering their slopes.  Mad River Glen opened 100% of its main mountain on Friday with up to 30 inches of base with fresh powder on top.  Bolton Valley opened a day early to give customers a chance to shred the 20 inches of new snow.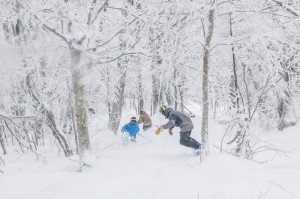 As snow started to accumulate on Tuesday morning, Jay Peak Resort's phones were ringing off the hook. "We took 134 reservations in just under two hours this morning. A Jay Peak record," said JJ Toland, Jay Peak's Director of Communication and Events. "You can fire your marketing team when Nor'easters prowl around your mountain."
As Sugarbush, Thursday marked a near historic opening of the Castlerock double chair, which accesses some of its most extreme terrain, has zero snowmaking, and is boasting one of the best snowpacks to date. They are already counting 68 inches of snow fallen this season and opened 100% of Lincoln Peak over the weekend.
Okemo Mountain Resort has dropped 108 ropes this season, meaning 90% of the terrain is open and ready for the influx of visitors to their Jackson Gore hotel.  Reservations soared to over 80% last week due to the storm. "This is the most terrain we've ever had open this early in the season," said Okemo Owner Tim Mueller. "Ever!"
At Stratton 90% of the main face is open and Mount Snow nearly doubled the number of trails open last week. Both are citing natural snowfall combined with strong snowmaking efforts that will continue through December.
Q Burke Mountain Resort opened on Saturday, along with Pico Mountain at Killington. Trapp Family Lodge in Stowe offered 100 percent of its cross-country ski terrain this past weekend.