Lakewood, CO – The board of directors of the National Ski Areas Association (NSAA), a nonprofit trade association that represents ski area owners and operators in the US, has named Kelly Pawlak as NSAA's new president and CEO to replace the retiring Michael Berry. Pawlak, who is vice president and general manager at Mount Snow Resort, Vt., will assume the position January 1, 2018.
"Finding someone with Kelly's experience and knowledge of ski area operations as well as an appreciation of the challenges ahead will be a true benefit for the association and ski resort operators," said Tim Silva, general manager at Sun Valley Resort, Idaho, and chair of NSAA's board of directors.
Earlier in August, NSAA had named Ski Vermont president Parker Riehle to fill the rule. Riehle, however, later declined the position, citing personal commitments.
Pawlak has been Mount Snow's VP/GM for the past 12 years, and has worked at the resort for more than 30 years in a variety of executive positons, including VP of operations, human resources, and marketing and sales.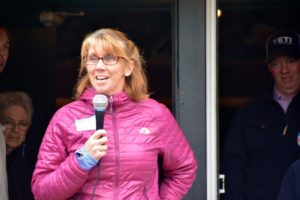 "I am honored and excited for this tremendous opportunity," said Pawlak. "At Mount Snow my love of skiing quickly grew into a passion for the ski industry, and now I look forward to putting my experience to work on the national level."
The National Ski Areas Association represents 303 alpine resorts that account for more than 90 percent of the skier/snowboarder visits nationwide. It also has 370 supplier members who provide equipment, goods, and services to the mountain resort industry.
At Mount Snow, Pawlak will be replaced by longtime Mount Snow employee Erik Barnes.
"After 31 years at Mount Snow, Erik is more than familiar with all of the ins and outs of running a resort, and we're thrilled to have him stepping into this role," said Jesse Boyd, Senior Vice President at Mount Snow parent Peak Resorts. "We look forward to having Erik guide our resort and its staff as we continue this exciting period of development and growth."
Barnes, who originally started at the mountain during the 1986-87, winter season as a ski instructor, has an extensive background in the ski industry with an emphasis in resort and customer service. Since then he has held a variety of roles around the resort, most recently as the director of resort services and director of golf, a position which he has held since 2006. In addition, Barnes is an alpine examiner and alpine educational staff chairperson for the Professional Ski Instructors of America.
"I'm honored to assume this new role at such an exciting time for our resort," said Barnes. "I have called Mount Snow home for the past 31 years, and look forward to leading this award-winning team during this period of expansion, innovation, and development."
Barnes will transition into his new role starting on November 4, 2017.